Once a muscle or joint is injured, regular exercise is typically the key to rehabilitation. But when pain limits a body's ability to exercise, the healing process takes longer.
Biofreeze products help break this pain cycle, by relieving pain through a method known as
"Gate Control,"
or "gating." In the gating process, menthol acts to stimulate specific sensory receptors in the skin, thereby blocking other receptors from sending pain signals to the brain.
Biofreeze products provide temporary relief from minor aches and pains of sore muscles and joints associated with simple backache, arthritis, bruises, strains and sprains.
Biofreeze Pain Reliever may be used up to four times a day - both before exercise or therapy (to relieve painful movement), and afterwards (to soothe muscle or joint soreness). In some cases, Biofreeze products may even be used during exercises or therapy.
---
Superfeet
YOUR HEALTH PROBLEMS MAY BE FOOT RELATED.

The health of your feet has a dramatic impact on the health of your body. Many people don't realize that instability in the foot can lead to the painful skeletal alignment issues. Superfeet help relieve the pain and discomfort caused by an unsupported foot during everyday activities, sports and work.

SUPPORT THE FOOT. ALIGN THE BODY.

Many cushioned insoles are made with gel or soft foam alone. They may seem comfortable at first, but without a firm stabilizer cap, they fail to adequately support your feet. Like sleeping on a soft mattress or trying to run in soft sand, the cushioned feeling quickly subsides without proper support.

Non-supportive and gel-based insoles do not effectively align the body, and can increase fatigue and foot pain. Firm support under the foot helps improve the way your shoes fit your feet. A better fit helps alleviate plantar fasciitis pain and helps reduce pronation, blisters, bunions and 'hot spots' caused from excess friction. When your foot is properly supported and aligned, stress on the muscles and ligaments is reduced.




---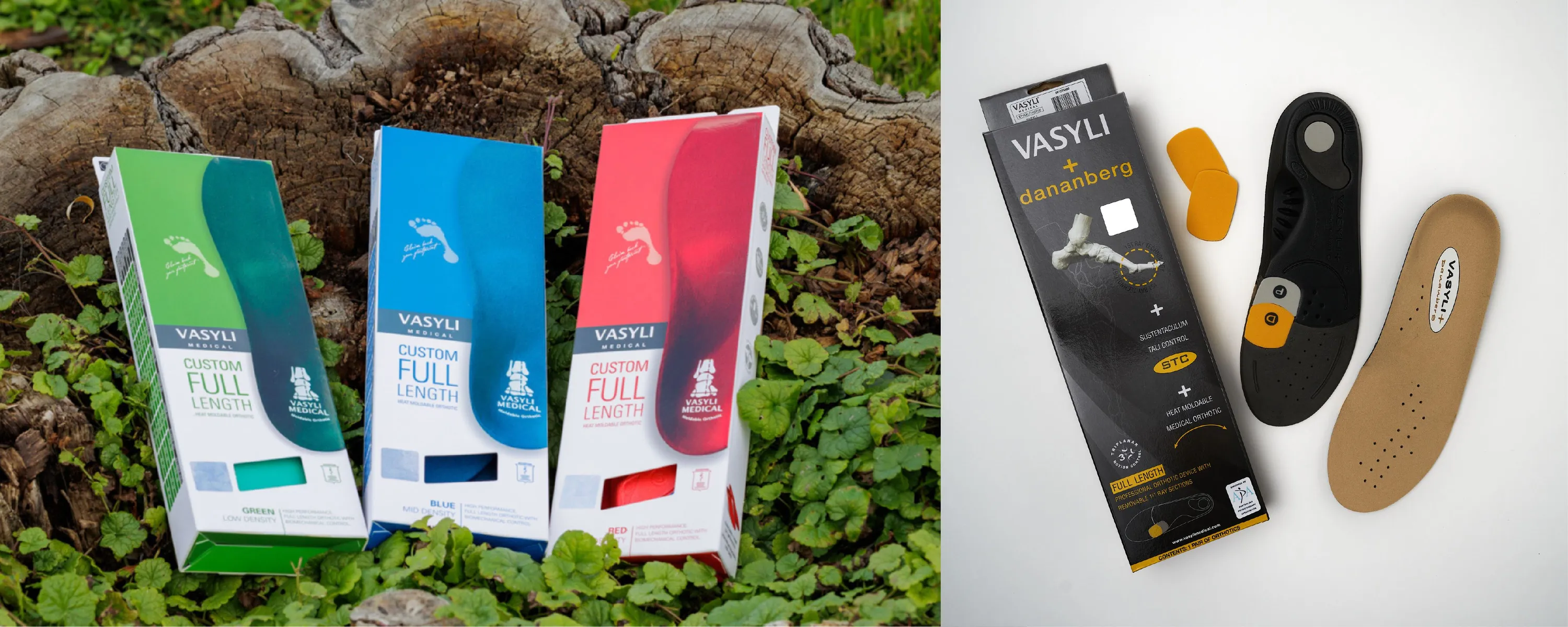 Vasyli
www.vasylimedical.com
At VASYLI Medical, we're passionate about what we do. With decades of product development and clinical experience, we continue to bring you the very latest generation of custom heat-moldable orthotic solutions, as well as non heat-moldable orthotics for everyday use.
Designed specifically for fast, affordable, and effective use, our unique range of prescription orthotic products represents the extraordinary treatment solutions currently available for medical professionals and their patients.
---
Nutritional Supplements
We partner with only the most reputable, science backed companies to provide you with a variety of supplements.
---
Trigger Point Tools
Do you have those painful trigger points in your back? Stop in and let us show you how you can treat them at home. We offer products such as "back knobbers", portable tens units and more.